Chicago – Richard J. Daley College Manufacturing Technology & Engineering Center (MTEC) has received the Leadership in Energy & Environmental Design's (LEED) Gold certification. The LEED rating system was developed by the U.S. Green Building Council (USGBC) and is the foremost program for buildings, homes and communities that are designed, constructe
d, maintained and operated for improved environmental and human hea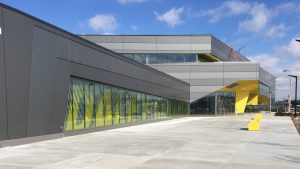 lth performance.
"Buildings that achieve LEED certification are lowering carbon emissions, creating a healthier environment and reducing operating costs while prioritizing sustainable practices, and the number of green buildings is increasing, which improves the quality of life for generations to come," Carina E. Sanchez, PBC's Executive Director said. "MTEC's LEED Gold certification is yet another example of Public Building Commission of Chicago's (PBC) commitment to make sustainability part of the Chicago experience."
MTEC achieved LEED certification for implementing practical and measurable strategies and solutions aimed at achieving high performance in sustainable site d
evelopment, water savings, energy efficiency, materials selection and indoor environmental quality.
"Making sure the campus was sustainable and energy efficient were top priorities in construction of the Center and this rating reflects that commitment," Sanchez said.
Developed by the PBC on behalf of the City Colleges of Chicago, the 52,000-square-foot building spans the main thoroughfare of 76th Street. The Design-Build team of Old Veteran Construction, JGMA and CannonDesign connected Daley College's new building to the legacy facility via a pedestrian bridge with spaces for students to network, study, or lounge.
Inside, high-bay space and five engineering and manufacturing labs provide students with the requisite training for highly-specialized, technology-oriented careers. The building's bold interior finishes and yellow exterior accents echo the brightly-colored machinery in the high bay. The seamless fluidity of the building's form was inspired by the constant, linear flow of the manufacturing process. Expansive views of the high-bay training area from the main lobby and 76th Street draw attention to the center's high-tech manufacturing equipment, which served as an inspiration for the building's palette. The facility's industrial aesthetic is further expressed through the use of metal panels, glass and steel, as well as the "Caution Yellow" on the underside of the pedestrian bridge. Inside the bridge, circulation space intentionally collides with seating areas, platforms, and alcoves, encouraging students to congregate and participate in incidental learning outside of class.
"Due in large part to the PBC's commitment to green buildings, the City of Chicago is a national leader in LEED-certified municipal buildings with more than 115 facilities, 88 of which were developed by the PBC," Sanchez said. "The volume of public buildings certified under LEED standards is a strong indication of the commitment to sustainable design embraced by the City of Chicago."
About the PBC: The Public Building Commission of Chicago manages construction and renovation projects for the City of Chicago and its sister agencies. Mayor Lori Lightfoot serves as the PBC's Chairman. Carina E. Sanchez serves as the Executive Director of the PBC. Additional information about the PBC and its projects can be found at www.pbcchicago.com. You can also follow the Public Building Commission of Chicago on Twitter, Facebook, and LinkedIn.