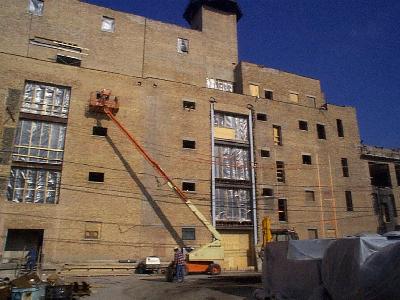 {"autoplay":"true","autoplay_speed":"3000","speed":"300","arrows":"true","dots":"true","rtl":"false"}
As part of Mayor Richard M. Daley's Neighborhoods Alive! program to invest $800 million over four years in neighborhood infrastructure improvements, the Public Building Commission renovated the former Goldblatt's building. Vacant and neglected for years, the Goldblatt's building was spared from demolition at the request of local neighborhood groups and declared a Landmark building.
Standing at Chicago and Ashland avenues, the 167,000-square-foot Goldblatt's department store was a collection of four different but interconnected buildings built 75 to 85 years ago. To maintain the architectural integrity of the facility, the PBC retained and repaired many features of the building's facade, such as: the original white terra cotta cladding; the "Chicago windows" and the water tower. The PBC also used the original architectural drawings to replicate the original storefront, which was last updated after World War II.
To modernize systems and enhance efficiency, the PBC installed new elevators and new heating, ventilation, air conditioning, electrical, communications, plumbing, drainage, and fire-protection systems. The building now houses various city departments, accommodating nearly 500 personnel.
Renovation of the Goldblatt's building will play a key role in the economic revitalization of the whole community, as hundreds of city employees will occupy the formerly vacant building, impacting neighborhood businesses daily with an increased demand for commercial services.
In 2000, the Public Building Commission's work on the Goldblatt's Building was recognized with the prestigious Cornerstone Award from the Chicago Building Congress. Along with the PBC, the Goldblatt's project team included architects Holabird & Root; engineers Environmental Systems Design; and general contractor The George Sollitt Construction Company.
1615 West Chicago
Ward 1: West Town
CONTRACT INFORMATION
Architect of Record:
Holabird & Root, LLC
General Contractors:
The George Sollitt Construction Company