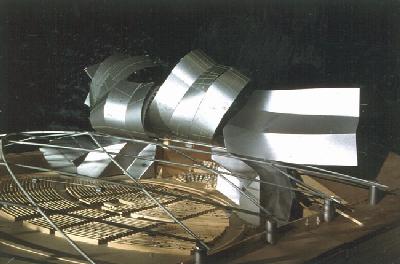 Frank Gehry-winner of the Pritzker Prize in Architecture and the National Medal of Art-designed the bandshell with a special sound system stretching out across the audience areas.
This will be the park's main bandshell with a stage similar in size to The Symphony Center (Orchestra Hall) and able to accommodate an orchestra of 120 musicians and a chorus of 150 singers.
Fixed seating for 4,000 and a 95,000-square-foot lawn area will serve a combined audience of more than 11,000 people, with excellent sound quality provided through a state-of-the-art trellis network of speakers-the first of its kind in the world-that will rival the concert sounds of Ravinia.
While the bandshell itself will be about 60 feet high, it will be decorated with unique steel ribbons that burst outward another 35-to-40 feet high like the petals of a flower, part of Gehry's design. All the Gehry elements of the bandshell are being privately funded.
Construction by the numbers:

Stage opening is 90 feet wide by 50 feet tall. The proscenium doors contain 90 panes of glass.
The Trellis over the greatlawn is 625 x 325 feet. It is 60 feet high at its highest point.
The Trellis is supported by 24 6 ft diameter, 15 ft tall concrete pylons. The pylons are set 60 feet apart.
The Trellis is made up of 120 pieces of 12 to 18 inch diameter pipes. Pieces range from 50 to 105 feet long with the average being 80 feet.
Nearly 700 aluminum panels make up the back of the Gehry ribbons. The panels are held in place by 2,064 arms.
No two panels are alike and range from 4 to 8 feet in width and 6 to 24 feet in lenght.
5,200 interlocking stainless steel sheets cover the Gehry ribbons.
Columbus & Randolph
Ward 42: Loop