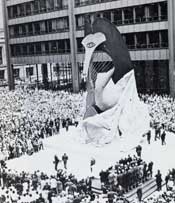 The very first resolution adopted by the Public Building Commission, in 1958, was the acceptance of an offer from the Department of City Planning to "obtain information relevant to the feasibility of the location of public buildings in the area bounded by Clark, Washington, Dearborn and Randolph Streets."
In 1963, the PBC's first major construction project began at this site in the heart of Chicago's Loop; two years later, the first occupants moved into the 31-story Civic Center. Situated on more than 120,000 square feet and standing 647 feet high, the $87 million facility was financed with revenue bonds by the PBC. Rededicated and renamed on December 27, 1976 to honor the late Mayor Richard J. Daley who died in office seven days earlier, the Daley Center currently serves as many as 10,000 people a day.
The exterior of the massive building is made of glass and a steel alloy metal that forms a rust patina as a protective coating. The Circuit Court of Cook County occupies half of the building, with 111 courtrooms and eight hearing rooms, while various city and Cook County offices are located in the remaining space.
Just as the Daley Center anchors the Loop, the plaza itself is anchored by the famous 162-ton Pablo Picasso statue. Art scholars have suggested that the statue is either a portrait of Picasso's wife at the time or his Afghan dog from different angles.
Picasso, who refused to accept payment for his work, designed a 42-inch model of the sculpture that he presented as a "gift to the people of Chicago." The actual sculpture, however, was manufactured by United States Steel Corporation in Gary, Indiana, where it was entirely pre-assembled, then disassembled, and subsequently shipped to the Daley Center to be reassembled in its final form. The steel that was utilized for the exterior of the Daley Center was also used for the Picasso sculpture, and, over time, developed the same patina.
Mayor Richard J. Daley and City Council members honored Picasso during a council meeting one month after the artist's death on April 8, 1973. The resolution read: "Pablo Picasso became a permanent part of Chicago, forever tied to the city he admired but never saw, in a country he never visited, on August 15, 1967. It was on that day that the Picasso sculpture in the Civic Center Plaza was unveiled; it has become a part of Chicago, and so has its creator Picasso."
In 1996, the Daley Center Plaza was rededicated after its reconstruction. The major renovation of the plaza included a redesigned fountain, planters increased in size, additional planters added along Randolph Street, and the eternal flame relocated in front of the flag poles. A new, permanent anchoring system for the city's Christmas tree also was installed.