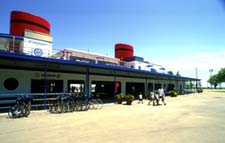 The $7 million North Avenue Beach House is permanently docked along one of Chicago's most popular stretches of lakefront. The sleek, new ocean liner-inspired building is decked out in a crisp blue and white. Boasting one of the best views in the city, the new beach house has upper decks and portholes for looking at the magnificent horizon or the multitudes of bikers, runners, walkers and rollerbladers streaming down the redesigned lakefront trail.
The beach house, built by the PBC at the request of the Chicago Park District, contains 22,000 square feet of space that features something for everyone – an outdoor eatery and concession stands; lifeguard station; outdoor showers; bike, chair and volleyball equipment rental offices; and restrooms.
The original, nearly identical beach house that stood at North Avenue Beach since the Great Depression was classified as a landmark building. However, the PBC received permission to take down the outdated structure in order to build a better facility that serves many more interests.
In May 2000, Mayor Richard M. Daley dedicated the North Avenue Beach House during a grand opening event for the public that included games for kids, free sand pails, refreshments and a jazz band. At the ribbon-cutting ceremony, Mayor Daley repeated his commitment to making the city's lakeshore more accessible and enjoyable to residents and visitors from around the world.