The Public Building Commission of Chicago oversees dozens of construction and renovation projects across the city, managing competing demands and keeping tabs on the many nuances of each project in order to bring them to completion safely, on time, and within budget.
The projects completed by the PBC in 2018 represent $195 million in investments across the city.
4,679 people earned over $33M working on these projects.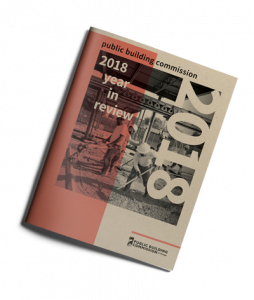 PBC projects embody our commitment to our clients and the communities we serve. The PBC is about people—their lives, their families and their work. The staff of PBC is dedicated to upholding our mission through the construction of public facilities that support business growth, lead to job creation, and present opportunities for recreation, education and public service.
It is with great pride that we present these efforts in our 2018 Year in Review. We look forward to continuing to provide remarkable public facilities that help build and strengthen Chicago's communities.
Sincerely,
Carina E. Sánchez
PBC Executive Director
PBC Projects Completed in 2018