In 2013, the PBC and Chicago Public Schools formed an innovative and unprecedented project management partnership to oversee the School Investment Program (SIP), which enabled 17 design/build teams to renovate and improve 98 schools. The goal of this program was to deliver facility renovations and upgrades to provide a truly welcoming environment for students on their first day of school. This approach provided a single point of accountability for each group of schools and generated material savings in cost and time by having the professional services providers and construction contractors work directly together throughout the design and construction of the project.
The $220M capital investment in the schools supported improvements that were governed by eight guiding principles: Warm, Dry, Cool, Secure, Welcoming, Inclusive, High-Tech and Purpose-Built.
SIP had a wider impact on the communities beyond the improvements made to the schools. As a result of the project, 7,162 individuals were employed. M/WBE participation achieved a combined 39.9%, exceeding the set goal. The PBC doubled its community hiring goals on the project, with 727 individuals hired from the communities surrounding the schools. In addition, 85 CPS students enrolled in the Careers in Technical Education program worked as interns across the city.
The work was completed on schedule—in about eight weeks and nearly $4 million under budget—in time for the start of school in August 2013, providing upgraded and improved facilities and resources to benefit the students of Chicago.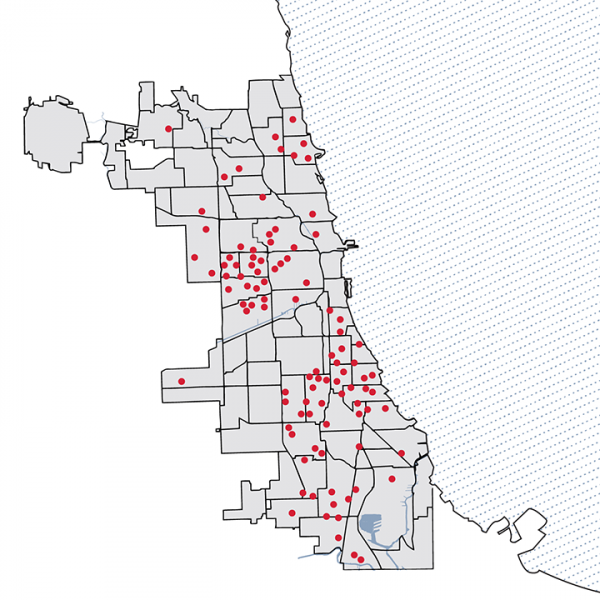 - Over 2,400 air conditioners installed
- Wireless upgrades at 54 schools
- New or renovated computer labs at over 40 schools
- 23 International Baccalaureate Science Labs added
- 18 new or renovated science labs
- 13 new or renovated art rooms
- 10 schools received new or renovated engineering labs
- 10 new or renovated media labs constructed
- 11 schools received new or renovated libraries
- 15 schools received new or renovated lockers
- 11 new elevators
- 14 new accessible lifts
- Food service upgrades at 33 schools
- Site improvements at 20 schools
- Exterior repairs and restoration at 60 schools
- Hundreds of classrooms painted
- Auxillary spaces refinished
- MEP system upgrades across the city