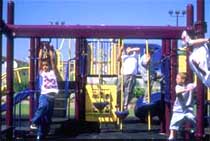 Replacing outdated and damaged playground equipment with new, safe and interactive recreational environments was part of a collaborative effort by the Chicago Public Schools and the Public Building Commission.
In accordance with Mayor Richard M. Daley's wishes to create play settings that help children develop both physical and social skills, in 1999 the PBC began work on a four-year, $10.2 million plan to construct playlots at 87 schools.
The PBC began a special initiative to take advantage of volume pricing and discounts by purchasing playground equipment in bulk. This cost-saving process also ensured that equipment was available more quickly for each playground. The equipment is colorful and challenging.
Another valuable facet of the plan provided for possible business opportunities for minority contractors and community residents. The PBC, along with Target Group Inc. and Boyle and Associates, developed the Minority, Women and Small Business Capacity Partnership Program in order to create additional opportunities for emerging minority contractors and community residents. As a result, seven firms were pre-qualified and were the sole bidders for the entire playlot program.